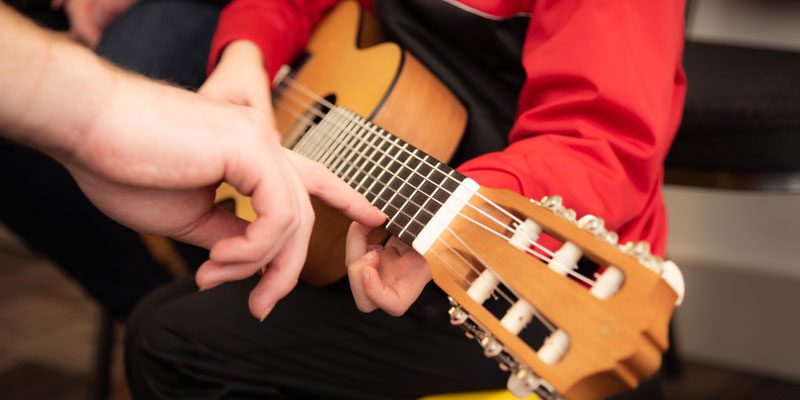 [trx_title]Surge in Guitar Sales Leads to More Interest in Guitar Lessons[/trx_title]
Guitar companies around the world are seeing a huge increase of guitar sales since the pandemic began in the second half of March this year.  Since Ontario's locked down people are finding themselves with more time on there hands and many of them are taking up guitar playing as a way to pass the time and provide solace in an uncertain time.
Read this great article from the Toronto Star:  https://www.pressreader.com/canada/toronto-star/20200912/282063394381617
Buying the guitar is of course only half the equation.   You have to learn how to play it as well.  This is why interest in guitar lessons has also grown this summer and fall.  Picture this.  Your new guitar arrives and you're excited to get started.  You take it out of the case and give it a strum.  It sounds awful!  It's out of tune and you don't even know where to begin.  It occurs to you that it's time to sign up for guitar lessons!  But where?
There are several options when it comes to finding a guitar teacher.  You could search YouTube and try leaning from videos but you're guitar is still way out of tune.  You could look for an online teacher on the internet.  There are thousands by the way.  The trick is finding someone that is relatable, fun, educated, and experienced.  Anyone can put up a website and list education and experience that could be embellished at best and completly untrue at worst.
Take guitar lessons from a professional and local music school
If you're serious about learning how to play the guitar than it's essential that you find the right fit for you or your children and this should mean thinking locally.
This is really important!  Remember that terrible sounding out of tune guitar?  If the music academy is close than you can simply take you guitar there for it's first tuning.  Even if you choose to take your lessons online it's great to be near the school.
What if you want to take your guitar lessons in person after the pandemic?  Choosing a local music academy will usually allow for this option.  Oakville Academy of Music has in person and online lessons and you can choose which one you prefer from week to week!
Learn more about guitar lessons at Oakville Academy of Music!