Piano, Guitar, Drums, and Ukulele Lessons in the Comfort of Your Own Home in Oakville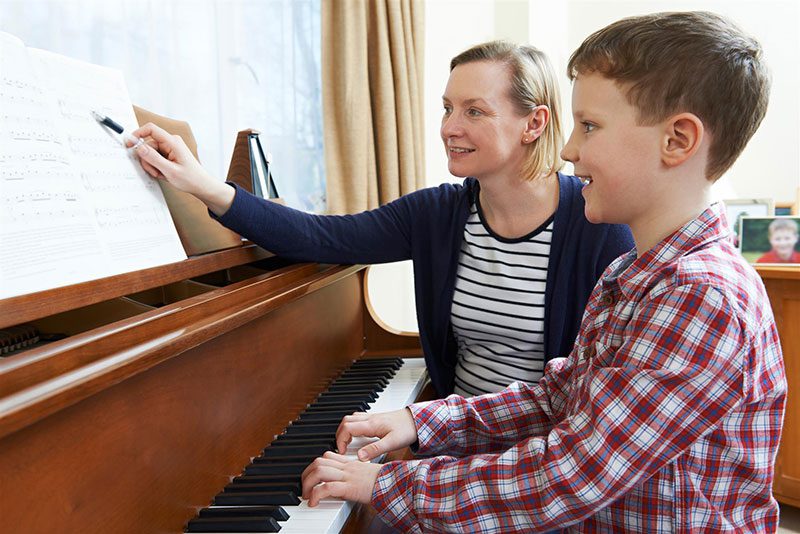 Since 1994 Oakville Academy of Music has been a leader in music education offering private lessons on piano, guitar, ukulele, voice, violin, drums, saxophone, clarinet, and flute at our Speers Rd and Fourth Line location.   Now you can have the same great music programs in the comfort and safety of you own home in Oakville!
Learn more about our  in-home piano lessons
Top 5 Reasons to become an Academy of Music in-home student…
Take lessons from a truly local music school
The Oakville Academy of Music has been at Speers and Fourth Line since 1994.  Many in-home lesson websites are actually referral services.  Our in-home program comes with the all the benefits our in-studio programs offer.
Qualified and fun music teachers
In addition to their teaching credentials, our teachers have warm personalities, are extremely friendly and strive to get to know each student and their parent on a personal level.   All of our teachers have current vulnerable sector police checks.
Professional office staff to help out every day
We are the only music school in Oakville that offers full time professional customer service for their students seven days a week.
Musical Ladder System
We are the only music school in Oakville that gives their students the opportunity to earn special colour wristband bracelets (kids and teens love them!), trophies AND certificates for passing musical challenges.
Month to Month lessons
The Academy does not require full semester registration for lessons. Every student here is on a month-to-month basis.If you are ready to start, you have nothing to lose as we only want students who truly want to be here and we will not commit you to a long term contract.
Are in-home music lessons right for you?  To help you decide read our blog post: Piano Lessons – In-Home or In Studio
Looking for in-home music lessons in Burlington Ontario?
We are now offering in home-piano, guitar, ukulele, and violin lessons in Burlington.  Learn more at:  https://musiclessonsburlington.ca
Interested in a different instrument?
We have a wide variety of instruments to choose from:
Ready to start? You have nothing to lose.
IT'S EASY TO TAKE THE FIRST STEP
Sign up is easy and parent-friendly, with helpful staff at the front desk seven days a week to serve you. Because we only offer lessons on a month-to-month basis, there are no large upfront payments, no complicated contracts, no annual material or performance fees, and no semester minimums.
Private In-Home Lessons are first come, first serve, so contact us today to arrange your first lesson!
A one-time registration fee is $25 (due only at time of registration).
All fees must be paid by pre-authorized credit cards or auto draft.