Piano Lessons- In Home or In Studio?
There is no disputing the value of piano lessons for children and adults of all ages but there does seem to be many discussions on whether you should take lessons at the music school or in your own home.
To help you make the right decision for your family  I'll lay out 3 benefits of both options.
Piano lessons at a music school
Scheduling can be more flexible:  Many well established music academies will have several teachers for each instrument and be open more days to help accommodate a busy schedule.
The cost for piano lessons should be a bit lower at the school: In home teachers need to travel from one home to the next which does take time.  This of course means that they must charge more to compensate for that extra driving time.
Less distraction:  The environment at a professional music school is often set up to be more conducive to learning.  It can be easier to focus when there are less distractions like pets or siblings interrupting the lesson, pots and pans banging in the kitchen, or the sound of video game and TV in the background.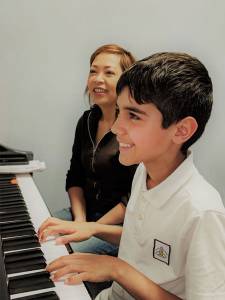 In-Home Piano Lessons
Save time and money:  Without having to drive to and from the school for your piano lessons you could save up to 70 minutes per week when you consider the lesson and drive time.
A more familiar and comfortable environment:  You may feel more relaxed in your own home.  For some people this may help make it easier to get into a good mental state for learning music.
No more driving in the rain and snow for your weekly piano lessons:  I think this one speaks for itself.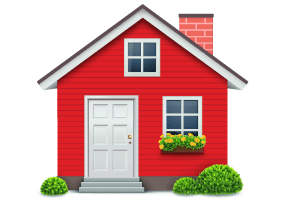 Whether you choose to take piano lessons at your home or at a music school you should consider the lesson provider carefully.  All music programs are not created equal!  Here are a few (and very important things) that we offer to all of our Oakville families. These apply to in studio and in home piano students.
Lessons available 7 days a week
Unlimited group make up classes that never expire
The Musical Ladder System (proven to help kids get more out of their music lessons)
2 Free all inclusive music recitals.  Open to every student at every level for piano, guitar, voice/singing, violin, ukulele, drums, saxophone, clarinet, and flute.
Professional office staff available 7 days a week to help out when you need them.
Ready to get started?  Call the Oakville Academy of Music today or Request More Info Online.