The Academy of Music offers voice lessons & singing lessons in Oakville for children and adults of all ages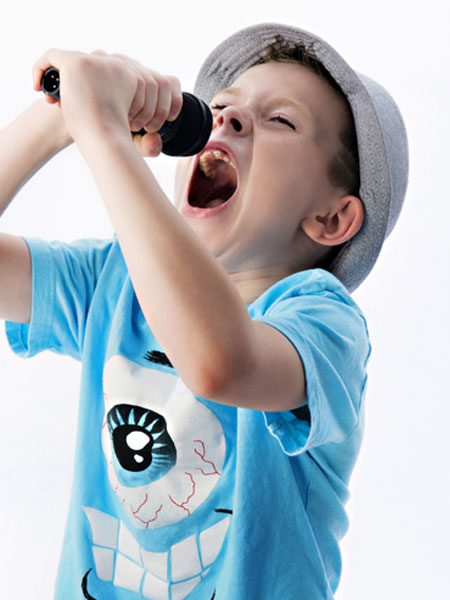 Overview
(For ages 7 and up)
Our voice teachers primarily focus on popular music and are comfortable with classical and jazz as well. If you have always wanted to be a better rock, pop, country, jazz, gospel or R&B singer, then we have the right voice teachers for you. Voice students spend time in each lesson doing physical exercises to improve their vocal range, ear training, breath control, vibrato, tone production, enunciation and more. All voice students set goals with their teacher to work on sounding like their favorite recording artists, or if they prefer, to develop their own unique voice.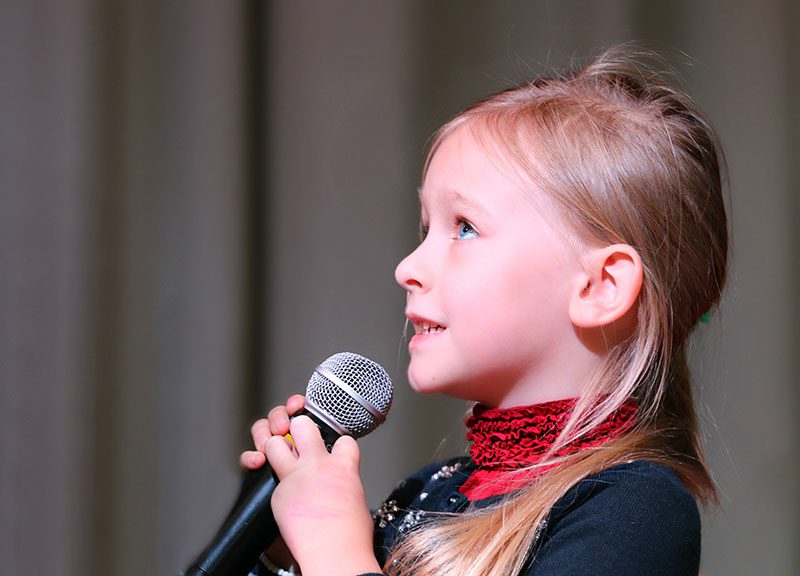 Here are a few of the things a student will learn in singing lessons:
How to breathe properly
How to increase their range
Pitch Control
How to read music and understand theory
How to project
Stage presence
Our school offers at least 2 optional performance opportunities in Oakville every year with a Christmas recital and a Spring concert. We also have students that perform at local festivals and events. Our private, one-on-one voice lesson lengths are 30 minutes or 1 hour.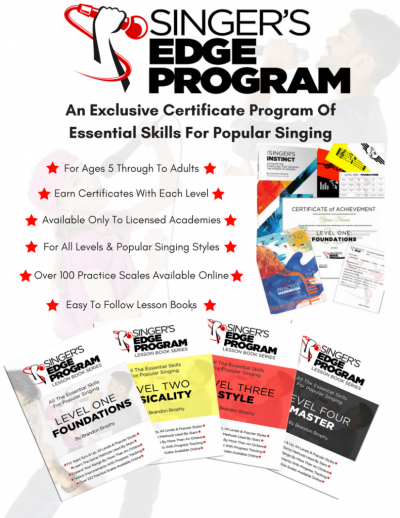 Interested in learning popular singing, but can't find can't find a music school or a voice teacher with specialized curriculum for it?
Search no more! Our school is proud to be the only music academy in Oakville to feature the Singer's Edge Program™ at no extra cost to our students! The program features 4 levels building up skills in sequence, with accompanying lesson books available for purchase, and certificates at the end of each level, teaching you all the essential skills for popular singing! The program also features hundreds of practice scales online for students to use at home, which makes weekly practice easy. The program is great for all ages from 5 and up through to adults, and for all levels of singers from beginners to advanced!
Get the most out of your voice and singing lessons in Oakville
START SINGING LESSONS AT THE RIGHT AGE?
We recommend children be 7 years old before they start vocal lessons.  Learning how to sing requires a fairly developed lung capacity.  Children under 7 may find certain voice techniques too difficult and physically demanding. It's often better for a child to wait until they are physically ready as to avoid potential problems in the future.  This should not be confused with singing in music lessons.  Singing along with the melody in your music lessons is extremely important and valuable.  Simply singing along quietly is unlikely to damage your voice where as learning how to project and sing from your diaphragm requires more development.
SING IN A MUSIC RECITAL
Singing in a music recital is one of the best ways for parents to know if their kids are really learning in their vocal lessons.   Preparing for a performance means that you need to practice singing one or two songs until you are ready to perform them.  This also gives the students and teachers something specific to work on in their lessons. Oakville Academy of Music offers 2 big recitals every year as well as several opportunities to sing at different events like seniors home and music festivals.
Ready to start? You have nothing to lose.
IT'S EASY TO TAKE THE FIRST STEP
Sign up is easy and parent-friendly, with helpful staff at the front desk seven days a week to serve you. Because we only offer lessons on a month-to-month basis, there are no large upfront payments, no complicated contracts, no annual material or performance fees, and no semester minimums.
Lessons are first come, first serve, so contact us today to arrange your first lesson!
PRICING
$36.00 / 30 minutes
$72.00 / 60 minutes (Recommended for the serious student)
Lessons are available seven days a week as early as 9:00 am to as late as 9:00 pm, and scheduled once a week.
Monday – Thursday 9:00am – 9:00pm
Friday 9:00am – 7:30pm
Saturday 9:00am – 4:00pm
Sunday 10:00am – 2:00pm
A one-time registration fee is $25 (due only at time of registration)
Music lessons are HST exempt
Fees must be paid by auto debit or pre-authorized credit card at time of registration
Interested in a different instrument?
We offer a wider variety of instruments to choose from: