Learn how to play Piano with Lessons in Oakville
Is this the year you learn how to play the piano?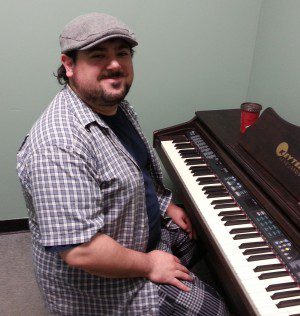 Overview
If you are an adult and are looking for piano lessons in Oakville you have come to the right place!  Oakville Academy of Music has been teaching piano to adults since opening in 1996.
Having one of the largest adult music programs in Oakville has taught us that adults have very different needs than children when it comes to learning the piano.
Most adults want to learn music that inspires them right away.  While it is important to learn piano fundamentals it's much more fun to do it with songs you love.  Our piano teachers use a variety of piano methods designed with the older beginner in mind.  In addition to these popular piano lesson methods your teacher will help you learn you favorite type of music whether it's classical, jazz, pop, or gospel hymns.
Finding the time to practice and working out a schedule for your lessons can be a bit tricky. Oakville Academy offers piano lessons seven days a week as early as 9:00am and as late as 9:00pm to fit your busy schedule.  There are also over 10 piano teachers here so we are sure to find a time and a teacher perfect for you.
Why Choose the Academy for your Piano Lessons?
Private one-on-one lessons so you can learn at a pace that you are comfortable with
University trained piano teachers
Play the music that you want in your piano lessons
You will never feel like you're being judged. We strive to create a relaxed an encouraging environment for all of our students, regardless of their age and level
We are conveniently located in Oakville at 1026 Speers Road (at Fourth Line).
Ready to start? You have nothing to lose.
IT'S EASY TO TAKE THE FIRST STEP
Sign up is easy and parent-friendly, with helpful staff at the front desk seven days a week to serve you. Because we only offer lessons on a month-to-month basis, there are no large upfront payments, no complicated contracts, no annual material or performance fees, and no semester minimums.
Lessons are first come, first serve, so contact us today to arrange your first lesson!
PRICING
$36.00 / 30 minutes
$72.00 / 60 minutes (Recommended for the serious student)
Lessons are available seven days a week as early as 9:00 am to as late as 9:00 pm, and scheduled once a week.
Monday – Thursday 9:00am – 9:00pm
Friday 9:00am – 7:30pm
Saturday 9:00am – 4:00pm
Sunday 10:00am – 2:00pm
A one-time registration fee is $25 (due only at time of registration)
Music lessons are HST exempt
Fees must be paid by auto debit or pre-authorized credit card at time of registration
Interested in a different instrument?
We offer a wider variety of instruments to choose from: