The Academy of Music offers guitar lessons in Oakville adults of all ages and levels
Beginners Welcome!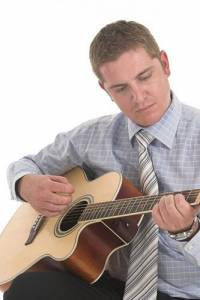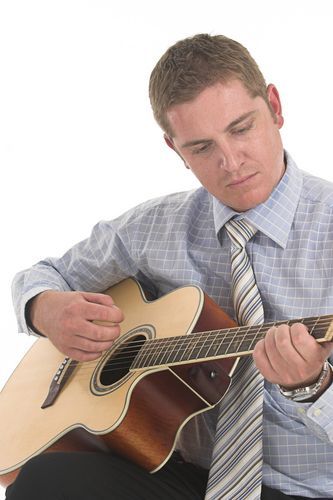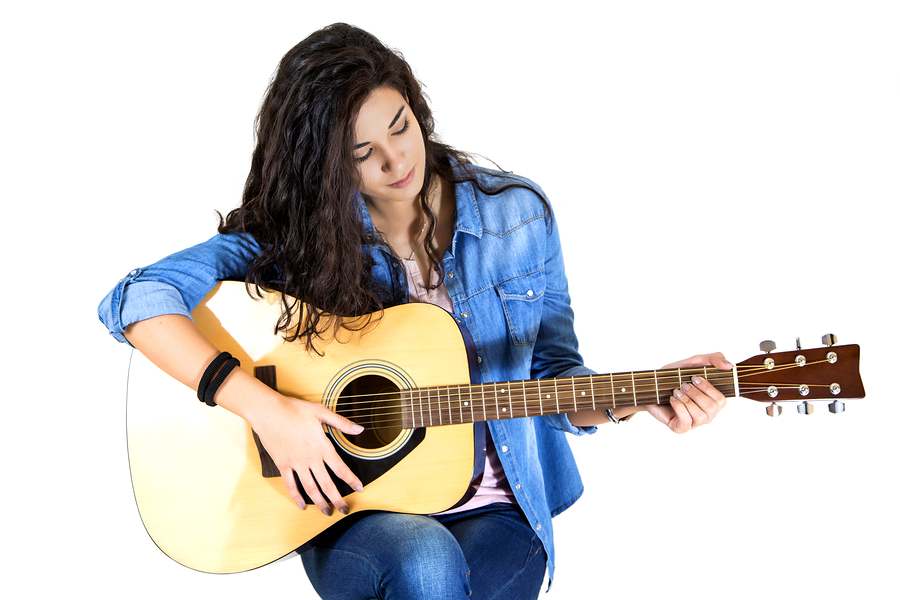 Adult Guitar Lessons
Since 1994 we have taught hundreds of adults how to play the guitar in Oakville!  Over the years we have learned one very important thing.   Adults don't generally want to have the same kind of lessons as children.  Every adult has their own idea of what they want out of guitar lessons.  Our guitar teachers are happy to teach you songs that you really want to learn.  Whether you want to play acoustic guitar around the camp fire or rock out to some ACDC we have the right teachers for you.
Our one-on-one private guitar lessons mean that the teacher can focus 100% on the music you love. You can take private guitar lessons for 30 minutes or 1 hour per week.  We offer guitar lessons 7 days a week because we know that you're busy.  With lessons available earlier in the day and later at night we're sure to find a time that works for your hectic schedule.
Looking for guitar lessons for your kids?
Learn more about our guitar lessons for children
Frequently Asked Questions About Guitar Lessons at Oakville Academy of Music:
What do you learn in your guitar lessons?
That question is quite common among adult students. Our guitar teachers make it a priority to get to know you on a personal level and to become familiar with your personal musical needs and goals.
We do not treat every student the same in terms of what and how we teach. A seven year old having their first guitar lesson will have very different needs than an adult taking up the guitar for the 2nd time after having had lessons as a child.
Do I have to play the guitar in a recital?
Of course not!  Our music recitals and concerts are always optional.  As an adult you will not be forced to play the guitar in a recital but you should know that preparing for a performance is a great way to set guitar lesson goals and hone your skills.  These events are held right here in Oakville and are free for our students with no tickets to purchase or participation fees of any kind.
What is the best age to start guitar lessons?
Adults can start guitar lessons at any age!
What styles of guitar do you teach?
We teach all styles from rock, pop, jazz, country, folk, blues and classical.
Are your guitar instructors qualified?
Our guitar teachers have received their education from prestigious institutions such as York University, Western University, Humber College, Mohawk College, and the University of Toronto. Many of our instructors have gone on performance tours of Canada, the US, and Europe and have over 25 years of professional performance and teaching experience. In addition to their teaching credentials, our teachers have warm personalities, are extremely friendly and strive to get to know each student and their parent on a personal level.
Do you teach beginner guitar lessons for adults?
We sure do!  Many of our adult guitar students start with no experience at all.  We understand that you may be a bit nervous and you're not sure what to expect as a new student.  Our guitar teachers are very easy going and care about your individual journey.  At your first guitar lesson the teacher will ask you about your favorite type of music.  You will build a plan together to get you playing the songs you love.  It's important for you to love your guitar lessons from the very beginning so you stay motivated to continue.  Our goal is to give you the skills and desire to want to continue learning the guitar.  We want you to love playing the guitar as much as we do!
Ready to start? You have nothing to lose.
IT'S EASY TO TAKE THE FIRST STEP
Sign up is easy and parent-friendly, with helpful staff at the front desk seven days a week to serve you. Because we only offer lessons on a month-to-month basis, there are no large upfront payments, no complicated contracts, no annual material or performance fees, and no semester minimums.
Lessons are first come, first serve, so contact us today to arrange your first lesson!
PRICING
$36.00 / 30 minutes
$72.00 / 60 minutes (Recommended for the serious student)
Lessons are available seven days a week as early as 9:00 am to as late as 9:00 pm, and scheduled once a week.
Monday – Thursday 9:00am – 9:00pm
Friday 9:00am – 7:30pm
Saturday 9:00am – 4:00pm
Sunday 10:00am – 2:00pm
A one-time registration fee is $25 (due only at time of registration)
Music lessons are HST exempt
Fees must be paid by auto debit or pre-authorized credit card at time of registration
Interested in a different instrument?
We offer a wider variety of instruments to choose from: